Advices
Remember:

- you need at least 1,5 liters drink water with you for each person
If you do not want to look like surface of the salt lake on Gavdos think about your water reserve.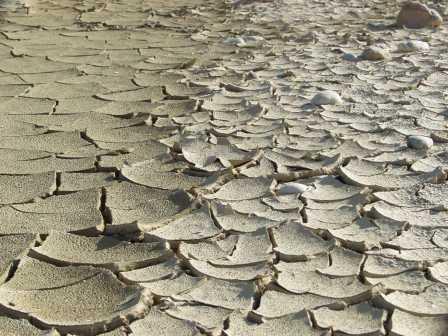 - you need shoes in best condition for walking and/or climbing

- keep clean Gavdos and do not throw garbage into the sea
- take your garbage  with you to the next tavern or garbage bin
- do not cat any cedar tree: dry or not dry is not a question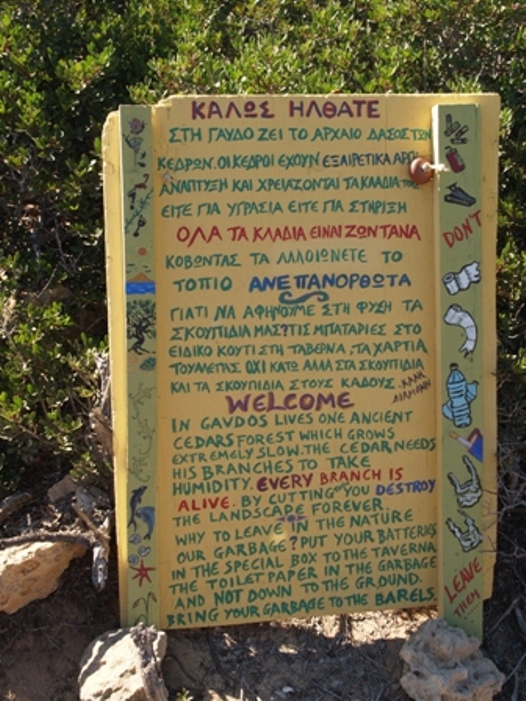 Checklist for Gavdos Camper and Outdoor Visitors:

- Sun cream with high sun protection for the first days
- Sun cream with lower sun protection not less than 8
- Skin care after
- Sun hat + backup- Shoes in best condition for walking and/or climbing
- First aid (+ your medicine)
- Compass
- Knife and fork
- Solar recharging system if using some electronics equipment
- fishing equipment
- insulating tape
- Books
- Gas cooker
- Hammock
- Cookware, plastic dish, drinking cup
- Straw mat
- Water canister
- Tent, mosquito net, mosquito oil, mosquito smoke (black packed)
- Documents (ID, Driver license, credit card, passport, insurance ID ...)
- Photo equipment (camera, battery, flash, lens, memory cards, cards reader, filter, cleaning stuff.....)
- Leatherman, corkscrew :-), lighter/ matches
- Ball pen, marker
- Optic equipment: 2 x sunglass, optic lens, clean fluid
- Sport:  snorkelling equipment ABC, volleyball, beach sports
- Mobile phone, mp3 player, pocket lamp
- Toilet requisites and (...razor blades, washing powder...)


List is not finished.  It depends on your standard and where you want to stay (tent, room)? How long you prefer to stay? Just a couple of days or longer than 3 weeks? You list will be different.

Think as well about your shopping list last day in Paleochora or Chora Sfakion.

On Sarakinniko Beach and on Ag. Ioannis is a small shop with all that small and big things you forgot or need in the time you are on Gavdos.

Here you are some suggestion:

- Tomatoes
- Cucumber
- Onion
- Fresh Feta
- Honey melon
- Sugar melon
- Nuts with honey
- Sesame with honey
- Gas can
- Alcoholics
- Cookies
- Sweet water


Apropos sweet water, you can find drinkable water on Gavdos.
You can drink it and you for your cooking activities. It has a touch of minerals (brackish).
You drink it on your responsibility.

How to find drinking water on (close to) Korfos Beach:

Step down from upper tavern to the beach. Before reach camping place turn right or turn right behind first buildings on the right side.
On panorama below to the left behind light yellow bilding.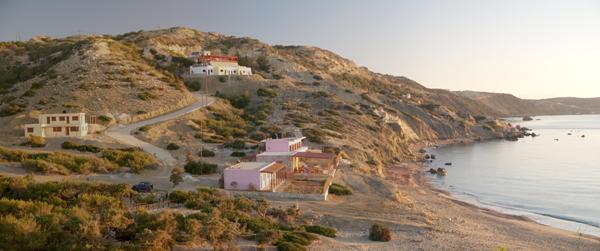 Follow this road up next few minutes.
Main road goes right up a part of the road goes left.
You follow main road. After next 3 minutes you can see on the left side small chapel Ag. Georgos from the back side.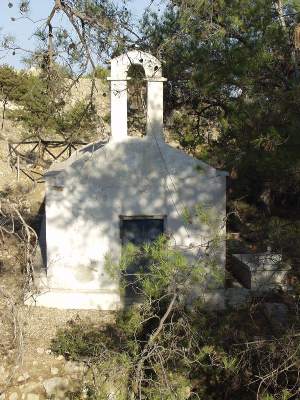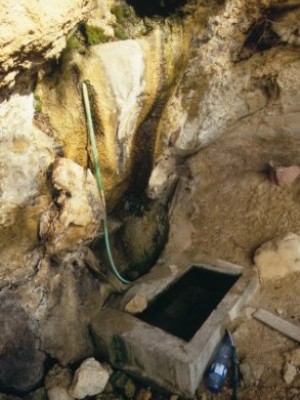 Ag. Georgos - on the way to the water place. Gavdos water place close to Korfos Beach




Follow this path. Pass Ag. Georgos follow this path up to the stone stairs. On the top turn right and water place from Korfos beach is in front of you.


IMPORTANT:

=================================================================


Please use water from the pipe for drinking.
Take water from the cistern (catch basin) out with a shorten bottle for a shower.
Do not use this cistern for cloth washing or other activities.
Keep this water (basin) clean for animals as well.Do not kill any animals if you are not going to eat it.
Keep in your mind that all these animals are here to find some water like you.
This is valid for all water places around Gavdos.
=======================================================


More water places on Gavdos you will find on our GAVDOS MAP in Gavdos-online Web shop.