Location and Climate
Gavdos is located 24 nautical miles south from Chora Sfakia, right in the middle of the Libyan Sea. It is triangular in shape, with an area of 37 square kilometres. Gavdos is Greece most southern island and the most southern point in Europe - the southern headland Tripiti (north 34°48'07" east 24°07'35"), which presents a beautiful composition of arcades diving into the sea. Gavdos is a low, sandy island wooded with pine trees and cedars. The island is filled with superb sand beaches such as the Sarkiniko,Agios Ioannis, Potamos, Lavrakas and shingle beach - Korfos.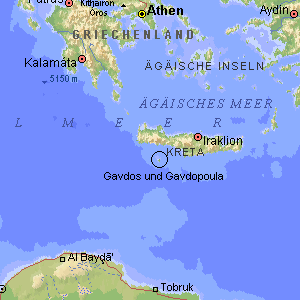 Map copyright protected - Author unknown
The climate of the islet Gavdos is subtropical, quite different from the rest of Greece. The temperature may reach over 40 degrees Celsius in the summer and there is not enough possibilities to hide from the powerful sun on this barren island, so hikers should always have water and a hat with them.
Once we support much more information about climate and location of the island. Unfortunately without your support all the information will be more and more cut. Please help us to continue our work and provide information about this paradise. Donate via PayPal. Thank you.