Way to Gavdos
The Day before, the Day after
1. Crete
Crete has two international airports, in Heraklion (HER) and Hania (CHQ). If you are visiting Gavdos, we recommend the Hania (Chania, Xania) airport. It is new and much closer to Sfakia -> Gavdos than Heraklion. Check-in in and out is very quick, as there are not many planes arriving. Flight to Chania is more comfortable, easier and faster. Chania  has a beautiful old Venetian harbour.

Old Venetian harbor in Chania.  Early in the morning Mai 2006.
For those who want to experience Chania we recommend to stay by "EROTOKRITOS AGIA MARINA CHANIA", two small luxurious new apartments "Studios" Agia Marina, only eight kilometers from the city of Chania. There is also a shop with souvenirs with prices very reasonable. Read more on their website: http://eparxiakofos.gr/touristika-idi-o-erotokritos-stin-a…/
There are 2 ways to arrive in Gavdos.  Irrespective of the mode of transport or where you are coming from you will have to pass through Paleochora or Chora Sfakion.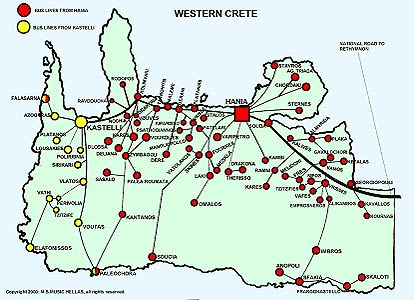 The day before you travel to Gavdos it is advisable to check ferry connections. Please phone or visit directly Maria in SELINO-Travel Agency in Paleochora on the way to the harbour. More info you can get from the port police in Paleochora or Chora Sfakion. You can take a bus from Chania Bus Station directly to Chora Sfakion or Paleohora and stay overnight.
PALEOCHORA - Over the night.
In Paleochora there is a place where you can eat a nice vegetarian food. One of the best vegetarian Restaurants in Greece. With a lot of different dishes from around the world. Go and look for "The third Eye - Vegetarian Restaurant" ask for Carline and Eftichis. For more Information visit www.thethirdeye-paleochora.com


If you have to stay overnight in Paleochora look for Anonymous Homestay rooms and Studios.
For more information about accommodation in Paleochora visit www.paleochora.gr


Chora Sfakion - Over the night:
In Chora Sfakion is not so easy to find a quiet place with nice view over the beach and food made in traditional way. Go to Giannis restaurant  over the beach. There you will find fresh made food and a quiet place with nice view. As a customer from THE THREE BROTHERS TAVERN you can use for free Internet to check your emails. So far we know it`s the only one Tavern with Internet access we know in Chora Sfakion (Nov. 2009). Ask for local family goat disk ARNI with vegetables. You will come back again just because of that.


Check the bus timetable and prices for your destination at KTEL web site.
For ferry boats time table on south-west coast of Crete as well for Gavdos please check web site from Ferry boat company ANANDYK here

The Day After
2. Morning in the Harbour
If you are going to Gavdos in late autumn and the sea is a bit ruff do not order your breakfast short before your departure.
It's not recommended. Before you catch your boat take your time to do your last shopping in the harbour. We have some suggestion for you at ADVICE.


Paleochora early in the morning just after sunrise.
Since 2008 - Ferry boat goes from Paleochora and Chora Sfakion 3 and more times during the week. It is a quite big boat taking not just tourists but as well cars and bikes.
3. Gavdos
Depending on the weather conditions surrounding Crete you will arrive more or less happy and clean ;-)  in Karave.
Karave is the largest and only one build harbour on Gavdos Island. Here you will see crowd of incoming and leaving people.
Small shop in the left no more working Tavern could offer most necessary things for your Gavdos visit.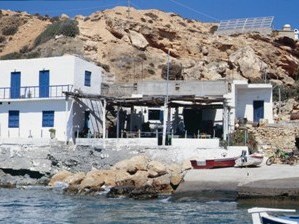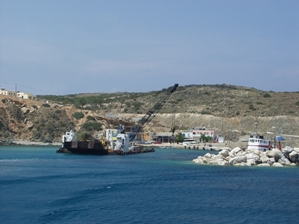 Gavdos harbour KARAVE in 1988. Harbour was reconstructed during many years. Here in May 2005.

In August 2008 Karave from Gavdos is still one big construction site.

Gavdos harbour 2013 is ready for small and big boats until about 35m.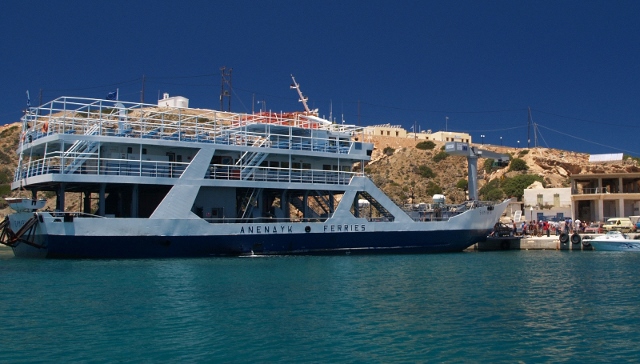 Gavdos has more then 3000 sunny hours a year.
If you prefer to visit a large sandy beach you will take a bus direction Sarakiniko and Agios Ioannis.

Sarakiniko



If you prefer to visit on a small shingle beach take a small bus to on Korfos Beach.

Korfos Beach